Family vacations are an excellent way to escape the monotony of daily routine and spend quality time together. Reconnecting with nature and spending time outdoors provides opportunities to create cherished memories together. While there are several options in the USA where you could achieve this, national parks stand out as a wonderful option for entertaining the entire family. And this makes perfect sense, for the USA is most famously known for its plethora of fantastic national parks and protected land.
In fact, The National Park System encompasses 423 national park sites in the United States. They span across more than 84 million acres with an elite group of 63 official National Parks. These are American's version of the crown jewels, and they attract millions of visitors each year. The biggest question remains – how to plan a National Parks family trip that will engage and inspire every member of your family.
"Between every two pine trees there is a door leading to a new way of life."

– John Muir
Deciding which National Parks to visit and how to structure your trip can be daunting. The internet is full of conflicting information, and every traveler has their own unique favorites. So how do you decide how to plan a National Parks family trip? Which of the top national parks in the country are trip-worthy, and how to combine several parks into one jam-packed adventure? These are questions our team gets asked daily, so we have compiled a list of some of the best national parks in the USA. This is not to say that these are the only available options because that would be a massive understatement. There are many more beautiful National Parks awaiting your exploratory eye, so keep looking when you have exhausted the following options!
1. Utah National Parks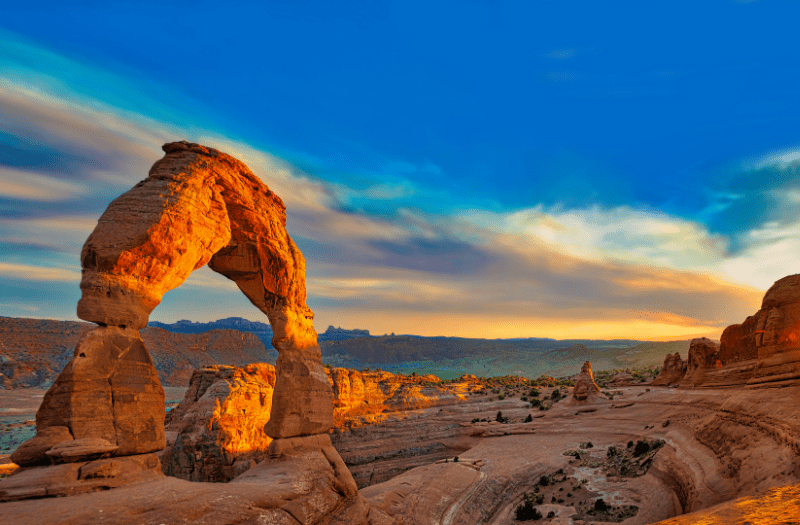 Utah is home to 5 magnificent National Parks. One of the best things about Utah's National Parks is that you can combine several of them in one vacation and enjoy a more complete and fulfilling experience. Ambitious travelers can explore Arches, Bryce, Canyonlands, and Zion together in a ten-day or two-week itinerary. But even if you are pressed for time we recommend combining at least two parks on your next adventure.
Before we get to the exhilarating experiences possible in these parks, it is essential to state that you should make sure you are planning a trip in the right season. Summers in Utah National Parks can get uncomfortably hot, with temperatures reaching over 100F. Given the dry climate and limited shade, hiking and other outdoor activities can be dangerous. Visiting these parks in peak summer months requires preparation, or you risk marring the overall experience. Our favorite months to visit Utah are May, September, or October.
Many activities are waiting to entertain you once you are here, like rock climbing, rafting, repelling, and world-famous hikes. Some of our favorite hikes include The Narrows in Zion, Delicate Arch in Arches, Fairyland Loop Trail in Bryce Canyon, and Mesa Arch in Canyonlands.
2. Californian National Parks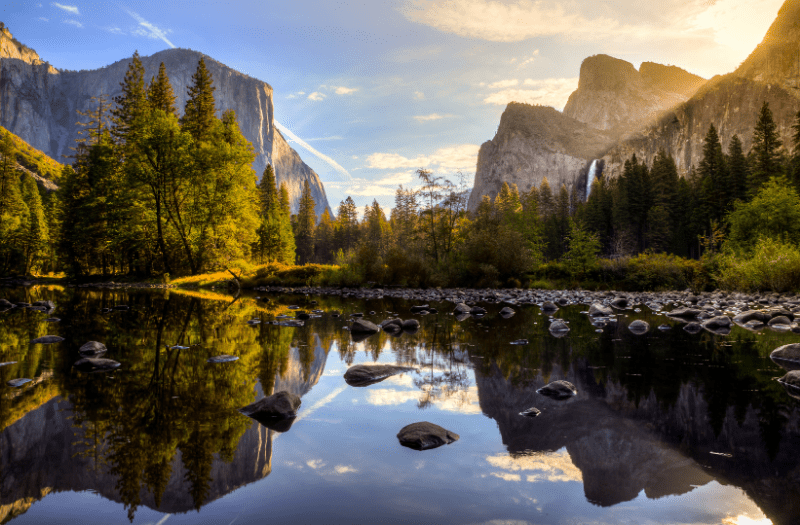 California is home to nine of the best National Parks in the country and each one has unique characteristics and appeal. And while it may not be possible to do justice to all of them in just one vacation, it is possible to combine a few in one itinerary. Visiting several National Parks requires planning to have the best and the most meaningful experience.
When asked how to plan a National Parks family trip in California, we recommend starting with a wish list. Ask everyone in the family to rank the parks and sights they would like to see, and then sit down with a map and plan the journey.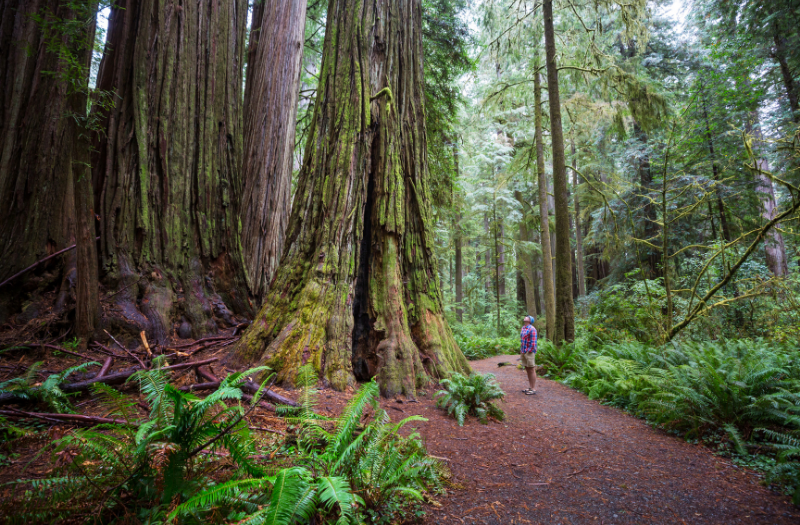 One of the most incredible experiences to consider is grouping Yosemite, Sequoia, and Kings Canyon National Parks into one adventure. Each of these three parks offers remarkable sights and experiences. Wonder in amazement at towering granite cliffs, meander flower-filled meadows, become awestruck by giant sequoia groves, and spend an afternoon playing in waterfalls and lakes. With so much beauty all around, you will find it difficult to pack your bags and head to your next destination. But rest assured, each park is full of natural wonders! The parks offer fun-filled activities for the adventurous members of your group, like river rafting, horseback riding, bouldering, and rock climbing.
Some of our favorite hikes include Yosemite Falls Trail, Big Trees Trail in Sequoia, Mist Falls Trail in Kings Canyon, and Half Dome in Yosemite. Keep in mind that the parks are extremely popular and crowded during peak season. Book your accommodations 12- 18 months out, and keep in mind that many hikes require permits and operate on a lottery system. Factor in these details while planning your trip or work with a professional travel company like BTA to organize it all for you.
3. Yellowstone and Grand Teton National Parks
Yellowstone and Grand Teton National Parks are two distinctly enjoyable and exciting destinations that you must visit with your family. If you are torn on how to plan a National Parks family trip in Wyoming and don't know which park to explore, we have good news. You do not have to make this difficult decision at all! Base your family in Jackson Hole and explore both parks, doubling the fun! This way, you will have the fantastic opportunity to immerse yourself in Yellowstone's geothermal natural wonders and experience Grand Teton's peaceful and private setting.
Ensure that you sign yourself and your family up for exciting activities like horseback riding, rafting through the snake river, and hiking the peaceful wilderness. Just remember that black bears and grizzly bears thrive in Grand Teton and Yellowstone. Prepare your family for fun and responsible adventure and practice bear safety. Hiking with a knowledgeable guide in a group and carrying bear spray protects both humans and animals.
4. Glacier National Park
Although quieter and more peaceful than some of the other parks mentioned on this list, Glacier National Park is rapidly gaining popularity and attracts millions of visitors per year. If traveling in the shoulder or off-season, you will find the park quiet, pristine, and magnificent, allowing you and your family to come together and enjoy undisturbed hours in a fantastic location.
"Keep close to Nature's heart… and break clear away, once in a while, and climb a mountain or spend a week in the woods. Wash your spirit clean."

– John Muir
Glacier is home to a diverse collection of flora and fauna that will keep you fascinated and engrossed. With over 70 species of mammals and 270 species of birds, including grizzly bears, gray wolves, hawks, and golden eagles, visitors are bound to get up close and personal with wildlife. Plus, many exciting outdoor activities are awaiting you, including hiking, ice fishing, boating, mountaineering, cross-country skiing, fly-fishing, and snowshoeing.
If you're researching how to plan a National Parks family trip to this magnificent region, we highly recommend a visit to the town of Whitefish, Montana. Located only 40 minutes from Glacier National Park and 15 minutes from the airport, Whitefish is a great base to explore Montana's wilderness and natural beauty. Just make sure to plan far ahead as the park now requires tickets for driving the famous Going-To-The-Sun Road.
5. Grand Canyon National Park
Who does not know of the Grand Canyon National Park? The park is well-known worldwide often manages to steal the limelight with its otherworldly ambiance. At a mind-blowing 18 miles long and over 6,000 feet deep, the Grand Canyon showcases 2 billion years of geologic activity along the Colorado River. Visiting the Grand Canyon allows a magical, dream-like escape from city life and creates many photo-worthy moments even your kids will want to participate in. It is undoubtedly a worthy destination with a breathtaking setting, sweeping views, stunning sunrises and sunsets, and jaw-droppingly beautiful hikes.
Our favorite hikes include the South Kaibab Trail to Cedar Ridge, the 13 mile Rim Trail, and the North Kaibab Trail to Roaring Springs. Keep in mind wilderness permits are required for overnight backpacking trips.
Of course, as with any National Park, there are several iconic activities you can be a part of, especially as a family. For example, some of the most popular activities here include river rafting, helicopter rides, biking, and camping.
Visitors to the area will also want to check out nearby attractions.
The lovely Red Rocks town of Sedona, AZ, only a couple of hours away
Mesmerizing Antelope Canyon and Horseshoe Bay are located about two hours from the Grand Canyon in a sleepy, charming town called Page, AZ. This is a very popular day trip and worthy of a detour.
As with any National Parks itinerary, there are a few things you must be careful about when planning a trip to this destination:
Make sure that you plan your vacation in the right part of the year. Our favorite months include March through May or September and October. This is when the weather is most pleasant, and crowds are lowest. Keep in mind that bookings occur as early as 15 months in advance, so be sure to plan.
Although not technically part of Grand Canyon National Park, Havasu Falls, which sits on the Havasupai Indian Reservation, usually makes the top of the wish list for any traveler coming to the Grand Canyon. To make camping reservations in Havasupai, you must reserve online at havasupaireservations.com beginning on February 1. Be aware, Havasupai camping permits often sell out for the entire season within just a few minutes.
The only lodge below the canyon rim is Phantom Ranch. It is only reachable by mule, on foot, or by rafting the Colorado River. Reservations are made through Xanterra via an online lottery 15 months in advance. So cross your fingers or use a travel professional to assist with planning.
6. The Smoky Mountains National Park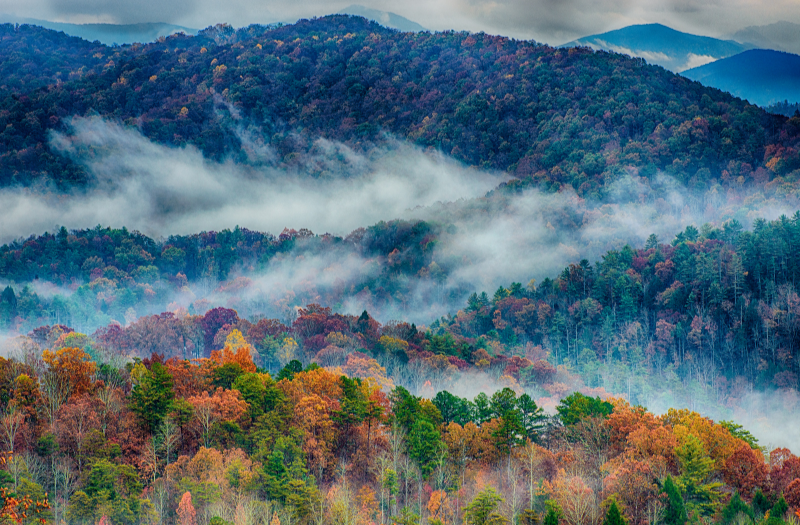 We could not write a list of the best national parks in the USA without mentioning the great Smoky Mountains. The reason for the park's popularity can be found right in the name – smoky mountains! On a bright clear day, as you sit down in the park and stare into the distance, you will find breathtaking smoky blue mountains standing imposingly, inviting attention. They are so fabulous that you would not realize how long you have been looking at them! But that is not the only great part about the park. First of all, it is incredibly family-friendly, allowing excellent opportunities for families to come together and spend an enjoyable time with one another. You can do several activities as a family here, including picnicking, hiking, watching wildlife, and following trails in the forest.
Some of our favorite hikes include:
Gregory Bald. This trail is most famous for the spectacular azaleas that bloom on the summit from mid to late June. A rainbow of colors explodes on the mountain providing a stunning natural display.
Alum Cave Trail to Mount LeConte. After climbing through Arch Rock, take a breather at Inspiration Point and then marvel at the imposing Alum Cave. Upon reaching the summit, hikers are rewarded with amazing views of Clingmans Dome and the rolling Smoky Mountains.
Porters Creek. Although an excellent choice any time of year, its low elevation and gentle slopes make it incredibly appealing in the spring months. Many higher elevation trails remain unpredictable due to snow and ice. However, this gentle trail meanders peacefully amongst flowers and a babbling creek year-round.
The best part? The park is one of the few national parks that does not charge entrance fees. That's right, entry to the park is free, so you can come here even when you are on a tight budget! Although there is only one lodge inside the park that requires a lottery, visitors can base themselves in the cute towns of Pigeon Forge, Gatlinburg, or Sevierville.
7. Everglades National Park
Calling the Everglades National Park an American treasure is not an overstatement. The park protects the largest subtropical wilderness in the United States. This is a very fragile but extremely important ecosystem, that is home to a variety of rare and endangered species like the manatee,  American crocodile, and the elusive Florida panther. It is listed as a UNESCO World Heritage Site and holds the status of an International Biosphere Reserve.
The Everglades provides plenty of reasons why you would want to plan a vacation with your family. From a subtropical and incredibly green setting to overgrown mangrove tunnels to a stunning variety of wildlife – Everglades will make your jaws drop and keep the adrenaline pumping. It offers exciting and immersive experiences like kayaking, camping, hiking, biking, canoeing, and birdwatching, among many others.
The Florida Everglades is the only place on earth where both alligators and crocodiles coexist. Therefore, many activities are centered around these imposing creatures. Lodging facilities are not available in Everglades National Park, so plan to stay in surrounding towns or campgrounds. Just remember, don't even think about jumping in for a swim. Make sure you keep younger kids close by, as snakes and reptiles can be dangerous and aggressive.
8. Acadia National Park

Acadia National Park is also very fondly referred to as the Crown Jewel of the North Atlantic Coast. We can attest that it got the nickname for very valid reasons. The park is home to some stunning spectacles of nature that would leave you in awe. The park provides excellent opportunities for you and your loved ones to build unforgettable memories. Take part in thrilling experiences like paddling, hiking the rugged precipice trail, camping, fishing, horseback riding, leaf-peeping, and cycling. You will enjoy every moment of your time here!
Still wondering how to plan a National Parks family trip, our team of experienced advisors can help. We create immersive, engaging, and educational itineraries geared towards your family's unique needs and interests. Take the guesswork out, and let us put together an amazing National Parks adventure for your next vacation.
Boutique Travel Advisors is a full-service, luxury travel agency. We specialize in creating bespoke itineraries for discerning clients around the world. Please visit our website or call 480-787-1477 to speak with a dedicated travel expert. 
Are you planning an international or domestic trip? Check out our other articles to help you come prepared!
We highly recommend the purchase of travel insurance to protect your financial investment and health while traveling internationally. To purchase a policy with our preferred travel insurance company Chubb click here.
At this time, anyone that resides in CA, CO, KS, MN, MO, MT, NH, NY, PA, TX or WA is unable to purchase an insurance policy online. If you would like assistance purchasing a travel insurance policy, please get in touch with a BTA advisor.