Birthdays hold different meaning for different people. I don't particularly love or hate them. But this birthday was different. I was going to cross a milestone: Turn 25! And I firmly believe that milestones need to be celebrated. So I decided to celebrate this milestone doing what I do best: Solo Travel.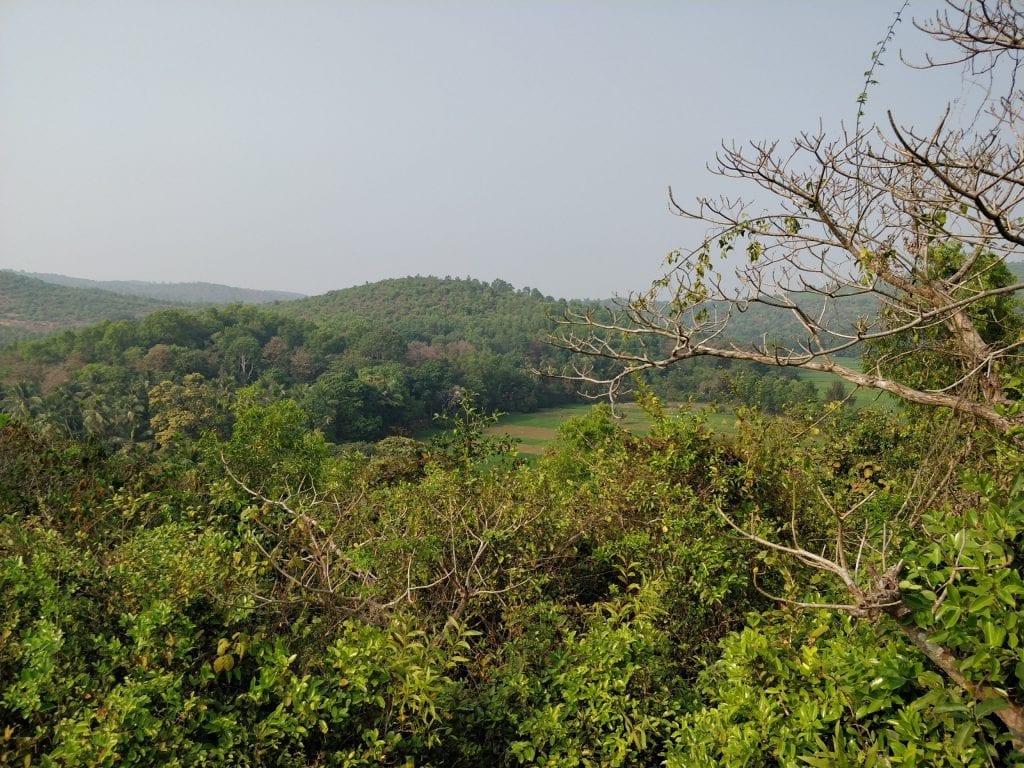 I wanted to go to a place where I could just sit back, read and write. Luckily, I got just the place I was looking for. I chose Gokarna, a small temple town on the Western Coast of India in Karnataka. Gokarna is accessible via road and rail from Mumbai and Bengaluru, two of the major cities in India.
Day 1: On Eve of My Birthday
I took the bus from Mumbai and reached Gokarna in early morning to see my first sunrise (I am not a morning person) in ages. Excited to see that the trip had started off well, I took a rickshaw (tuk tuk) to reach my hostel near Kudle Beach.
Gokarna has five main beaches namely Gokarna Beach, Kudle Beach, Om Beach, Half-moon Beach and Paradise Beach. Barring Gokarna Beach, which is mainly used by locals to perform rituals, the rest of the four beaches are famous among the tourists.  So on my first day, I went for a 10 km (easy) trek with my fellow hostellers and covered the famous beaches of Gokarna. We even got to see a beautiful sunset and it was probably the first time that I had seen both sunrise and sunset in one day.
Day 2: The D-Day
I wanted to stay offline on my birthday so after receiving wishes from my close friends and family, I only used my phone when it was necessary. I brought in my 25th in Kudle Beach with fellow travelers under the moonlight, went for lunch with fellow dorm mate to a place named Halfway Home which served delicious homemade thalis, wrote for a while on a hammock while enjoying a beautiful view and ended the day by watching a beautiful sunset from a hilltop. In the end, as desired, I got to celebrate a quiet birthday.
And just when I thought that I had celebrated one of my best birthdays, my fellow hostellers surprised me with a birthday cake and balloons. I got to experience one of the best feelings in the word that day. Such kind gestures by strangers always melt your heart.
Day 3: Last Day in Gokarna
After having celebrated my birthday in one of the best ways and covering the beaches of Gokarna, I headed to Vibhuti Falls, a waterfall surrounded by huge rocks and limestone structures, Yana Caves, known for natural rock formations and Mirjan Fort with my new friends. It was a good way to end a wonderful trip.
Solo travelling has always been a fulfilling experience for me. In the past, it has taught me to be more confident, observant and enjoy the little things of life and has given me so many friends from around the world. It is a good way to take some time off our busy lives and reflect on life.
I took this trip thinking to do the same and to get some clarity in life. I was in for a surprise when the trip ended up teaching me some new lessons on kindness of strangers and the importance of being less hard on me and occasionally being proud of my achievements and the person I have become.
I may not have achieved the desired clarity in life but I have a feeling I am on the right path.
By BTA World Correspondent, Elka Chalo
Blog: Ekla Chalo
Instagram/Twitter: shalinigupta
Please contact info@travelbta.com for guidance on designing a special "birthday" travel experience, whether solo or with other travelers! 
Boutique Travel Advisors is a full-service, luxury travel agency. We specialize in creating bespoke itineraries for discerning clients around the world. Please visit our website or call 480-787-1477 to speak with a dedicated travel expert. 
Are you planning an international or domestic trip? Check out our other articles to help you come prepared!
We highly recommend the purchase of travel insurance to protect your financial investment and health while traveling internationally. To purchase a policy with our preferred travel insurance company Chubb click here.
At this time, anyone that resides in CA, CO, KS, MN, MO, MT, NH, NY, PA, TX or WA is unable to purchase an insurance policy online. If you would like assistance purchasing a travel insurance policy, please get in touch with a BTA advisor.