Our users support our website. Therefore, we sometimes earn affiliate commissions when you click through the affiliate links on our website. Rest assured that all of our recommendations are made whole-heartedly with the intent of helping travelers like you discover the world authentically and responsibly.
Introduction
      "Not all those who wander are lost.
       – J.R.R. Tolkien 
When one contemplates a luxury getaway to Dubai and Oman, a destination that seamlessly fuses cutting-edge technology with a rich tapestry of cultural history, Dubai presents itself as an undeniable candidate. Its mosaic of experiences ranges from the excitement and thrill of dune-bashing to the more tranquil luxuries like world-class spas and fine dining. It's a city-state where the height of man-made marvels rivals the profound depth of tradition.
Dubai's history is a tale of transformation from ancient fishing and pearl diving settlements along Dubai Creek to a bustling global metropolis. For centuries, pearl diving was the economic backbone until the discovery of oil in 1966 brought unprecedented wealth and modernization. Dubai's entry into the United Arab Emirates (UAE) in 1971 marked a new era, with visionary leadership driving ambitious projects and economic diversification. Today, Dubai symbolizes innovation and global influence, blending its rich heritage with modernity. For those seeking a luxury getaway to Dubai and Oman, this narrative of transformation and progress only adds to the allure of these captivating destinations.
In this itinerary, we delve deeper into each day to uncover the nuances that make Dubai a destination and an experience worthy of the most discerning traveler.
Day 1: New York to Dubai
Newark Airport, one of the primary hubs for international flights in the United States, offers a host of lounges where you can relish gourmet food and cocktails. As you refresh yourself, remember that you're about to board a flight to a city that was a simple Bedouin village until the discovery of oil in the late 1960s.
Flight to Dubai
You'll board a 13-hour and 25-minute flight to Dubai, a journey that carries you over multiple time zones and perhaps through time as you head to a city that has rapidly modernized while retaining its rich heritage.
Modern-day long-haul planes often incorporate amenities that make this kind of journey less about endurance and more about enjoyment. From lay-flat seats in business class to various inflight entertainment options, the flight becomes an experience, not just a means to an end. For a truly luxurious experience, we recommend flying on Emirates. 
Day 2: A Royal Welcome – Arrival in Dubai for your Luxury Getaway to Dubai and Oman
          Going through different places, I stopped through Dubai and stayed there overnight. There I had an ultra-culture shock.
           – Tequan Richmond
Arrival at Dubai International Airport for your luxury getaway to Dubai and Oman
As your plane touches down on the tarmac of Dubai International Airport (DXB), the luxury that defines this city-state becomes apparent. With Emirates' VIP Marhaba meet-and-greet service in your luxury getaway to Dubai and Oman, you are immediately escorted away from the typical airport hustle. A dedicated agent will greet you as you deplane, guiding you through expedited customs and immigration procedures. This VIP service isn't simply about speed but providing a seamless and highly personalized experience. It is a testament to the Emirates brand, which embodies traditional Arabic hospitality and modern efficiency.
Your journey continues as you meet your private chauffeur in the arrivals area, ready to whisk you away to your accommodation. The drive juxtaposes Dubai's futuristic skyline against the timeless desert, making for a cinematic introduction to the Emirates' dual character of modernity and tradition, setting the stage for your luxury getaway to Dubai.
Deep Dive: Even the transfers in Dubai offer the epitome of luxury—think Rolls-Royce Phantoms or high-end Mercedes-Benzs to whisk you away from the airport and to the doorsteps of your beautiful hotel.
Hotel Options for your luxury getaway in Dubai and Oman
Your arrival in Dubai and first day set the stage for a trip of a lifetime. While the city is known to host some of the most incredible luxury hotels in the world, we have selected a few newcomers and time-tested favorites. 
If opulence had an architectural manifestation, it would undoubtedly be the Burj Al Arab. Often cited as the world's only seven-star hotel, it has consistently defined what luxury hospitality can aspire to be.
The Burj Al Arab's iconic sail-shaped silhouette is more than just visually stunning; it nods to Dubai's maritime heritage. Within its walls, you'll find an unparalleled level of service that includes personal butlers and a plethora of dining options that range from modern Australian to traditional Arabic.
The One and Only is a sanctuary of tranquility amidst the hustle and bustle of Dubai. The space reveres privacy and elegance, offering an authentic Emirati experience.
The resort takes inspiration from the traditional Arabian courtyard, offering an idyllic blend of Moorish and Andalusian architectural elements. With secluded gardens and ornate gazebos, the One and Only aims to accommodate you and transport you to a different world altogether.
The new Atlantis The Royal isn't just a luxury hotel; it is a monument to the very spirit of Dubai. It's a property that allows guests to live out the myths it pays homage to. The Ambassador Lagoon, an in-house aquarium, not only holds 11 million liters of water but serves as a living, breathing tableau of marine biodiversity. Located on the Palm Jumeirah, a marvel of modern engineering, the Atlantis The Royal symbolizes Dubai's audacity—its willingness to think, build, and dream even bigger.
After settling into your beautiful hotel, spend your first afternoon relaxing and adjusting to the time zones before experiencing your first evening in the city. 
Evening: Dinner in the Sky A High Point of Your Luxury Getaway to Dubai and Oman
Tonight, enjoy a culinary adventure during your luxury getaway to Dubai. Dinner in the Sky at Dubai Marina is an extraordinary experience, elevating you 50 meters above ground for a meal suspended in the sky. With panoramic views of Dubai's iconic landmarks and shimmering waters. You'll savor a multi-course gourmet meal crafted by talented chefs blending international and Middle Eastern flavors. It's not just dining; it's an immersive adventure perfect for special occasions, romantic evenings, or anyone seeking a truly unforgettable meal with a fun twist.
Day 3: Spa, Shopping and Yachts
Morning: Spa Experience for a Relaxing Luxury Getaway to Dubai and Oman
Start your morning with a visit to the spa. Enjoy a refreshing yet relaxing massage and eliminate the tensions and jet lag from your travels. Your 90-minute session isn't just about relaxation; it's a ritual that takes you through centuries of Arabian wellness traditions.
Deep Dive: The essential oils used in Middle Eastern spas often include frankincense and myrrh, both of which have been traded in the region for over 5,000 years. These oils are known for their calming properties, which can be a perfect prelude to a day of activities.
Afternoon: Private Shopper Services 
In the realm of luxury shopping during your high-end getaway to, a private shopper serves as the ultimate curator. With their deep knowledge of the city's high-end boutiques and exclusive collections, they transform your shopping experience into an art form. These experts understand your unique tastes and preferences, ensuring each boutique visit seamlessly explores curated luxury. What truly sets them apart is their ability to provide access to exclusive lounges and coveted collections that remain hidden from the ordinary shopper. With a private shopper by your side, you'll find yourself indulging in the finest fashion and accessories and stepping into a realm of exclusivity and privilege that elevates your shopping journey.
Evening: Yacht Experience – A Memorable Night on Your Luxury Getaway to Dubai and Oman
As the sun sets and Dubai's iconic skyline begins to twinkle, you'll step aboard a beautiful yacht designed for comfort and sophistication to enjoy an unforgettable evening. While taking in the views, you will also enjoy a culinary voyage with gourmet dishes tailored to your taste, expertly prepared by skilled chefs. The backdrop of Dubai's glittering landmarks, including the Burj Khalifa and Palm Jumeirah, adds a touch of magic to every moment. 
The attentive crew ensures your every need is met as you dine in intimate splendor, whether you're celebrating a special occasion or simply savoring a romantic escape. With the gentle sea breeze and the city's radiant lights, this private yacht experience is the perfect way to end the day.
Day 4: Water Cars and Burj Khalifa
Morning: Water Cars Thrilling Adventures in your Luxury Getaway to Dubai and Oman
Embarking on an extraordinary day during your luxury getaway to Dubai, your adventure begins with a thrilling Water Cars experience a highlight of your luxury getaway to Dubai and Oman. As you step into the sleek Corvette Jetcar, you become one of the privileged few with the exhilarating opportunity to drive a car on water. The Jetcar adventure allows you to explore Dubai's iconic skyline and landmarks from the water. Enjoy the mesmerizing vistas as you cruise along Dubai Marina, Dubai Creek, and Downtown Dubai, providing an entirely different point of view.
Optional Activities: Dubai Aquarium and Butterfly Garden – Unique Experiences on Your Luxury Getaway to Dubai and Oman
Visiting the Dubai Aquarium and Underwater Zoo is a fun option for those seeking an underwater adventure. Immerse yourself in a mesmerizing world of aquatic wonders, where you can walk through a tunnel surrounded by awe-inspiring marine life. It's a chance to get up close and personal with diverse underwater species, making it a delightful experience for all ages.
If you're looking for a bit of inspiration, stop in for a short visit to explore the Dubai Butterfly Garden. Wander through this enchanting oasis, where thousands of colorful butterflies flutter amidst lush greenery, creating a serene and picturesque escape from the bustling city. 
Afternoon: Sunset at Burj Khalifa-  A Dazzling Highlight of Your Luxury Getaway to Dubai and Oman
Visiting the Burj Khalifa in Dubai is an iconic experience that offers breathtaking views and a glimpse into the city's architectural marvels. 
Embark on a captivating afternoon adventure with our exclusive visit. The Burj Khalifa boasts two exceptional observation decks: the lower deck on level 124, featuring an expansive outdoor terrace with panoramic city views, and the upper deck on level 148, offering an even more exclusive experience with a luxurious lounge and complimentary refreshments. For the ultimate VIP treatment, you will be provided access to the At the Top Sky Lounge. Visit in the late afternoon to witness the city's transformation from daylight to a mesmerizing display of evening lights. 
Before reaching the observation decks, check out the engaging multimedia presentation that delves into the Burj Khalifa's history and construction, enriching your understanding of this architectural masterpiece. 
Deep Dive: The design of the Burj Khalifa was inspired by the Spider Lily, a desert flower native to the UAE. Its three-lobed base is a harmonious blend of aesthetic beauty and structural stability, paying homage to Islamic architecture.
Evening: Ossiano Progressive Fine Dining Experience Culinary Delight in Your  Luxury Getaway to Dubai and Oman
As the day transitions into the evening during your luxury getaway to Dubai, your culinary journey reaches its pinnacle with Ossiano, a Michelin Progressive Fine Dining Experience. Nestled within the breathtaking Atlantis The Palm, Ossiano offers not just a meal but a gastronomic spectacle. The underwater setting, with floor-to-ceiling views of the Ambassador Lagoon's marine life, sets the stage for an unforgettable evening. Savor the creations of talented chefs while surrounded by the ocean floor's serene, otherworldly beauty.
In Dubai, each experience is a testament to the city's commitment to pushing boundaries and creating memories that linger long after the adventure ends. From high-speed water cars to awe-inspiring heights at the Burj Khalifa, and the captivating depths of the Dubai Aquarium, all the way to the culinary artistry of Ossiano, this day in Dubai promises an unforgettable journey of luxury and discovery.

Day 5: Journey to the Desert on Your Luxury Getaway to Dubai and Oman
            The desert tells a different story every time one ventures onto it. 
               – Robert Edison Fulton Jr.
Morning: Drive to Al Maha
Journeying from Dubai to Al Maha feels like stepping into a storybook that weaves together the region's history with modern luxury. This desert haven, aptly named after the Arabian Oryx, locally known as Al Maha, captures the essence of Dubai's rich Bedouin heritage.
Picture spending two magical nights amidst the timeless dunes, surrounded by a landscape infinitely stretching to the horizon. Al Maha, a Luxury Collection Desert Resort & Spa Dubai, offers a unique blend of traditional Bedouin design and contemporary comfort. Here, you're not just a guest; you become part of a story that celebrates the revered Arabian Oryx and the desert's enduring legacy.
Your days at Al Maha are filled with authentic desert adventures, from camel treks across the dunes to dining beneath the starry desert skies. It's a chance to disconnect from the hustle and bustle, reconnect with nature, and immerse yourself in the timeless traditions of the desert. At Al Maha, we invite you to experience Dubai's past on an adventure that brings the desert's spirit to life.
Deep Dive: The Arabian Oryx was extinct in the wild by the early 1970s but has been successfully reintroduced, thanks to concerted conservation efforts. Similarly, Al Maha Resort aims to provide its guests with a 'reintroduction' to the Arabian desert's natural beauty and cultural richness during their luxury getaway to Dubai and Oman.
Evening: Dune Dining
Tonight, during your high-end getaway to Dubai, indulge in an enchanting evening of fine dining beneath the Arabian night sky a unique experience during your luxury getaway to Dubai and Oman. Here, culinary delights harmonize with a romantic ambiance, illuminated by the warm glow of flame torches and adorned with Persian carpets and crisp white linen. This setting weaves together an unforgettable tapestry of flavors and memories that will leave you in awe.

Day 6: Floating Breakfast, Falconry and Camel Rides – Desert Adventures in Your Luxury Getaway to Dubai and Oman
Start your first morning with an iconic Al Maha experience – the floating breakfast. As you float in your private pool enjoying Arabian delicacies, take in the serenity the desert has offered its inhabitants for millennia.
Deep Dive: The concept of a floating meal is a modern innovation, but it aligns with the age-old Middle Eastern tradition of making meals a leisurely, enjoyable affair—often lasting several hours and including multiple courses and many flavors.
After breakfast, decide how to spend the day and choose your own adventure. Al Maha excels at providing a plethora of experiences to make your desert stay an unforgettable experience. Most activities are scheduled during the cooler parts of the day, either in the morning or the afternoon, and are always guided by experienced field guides.
Morning Activities:
Falconry:

 Explore the ancient art of falconry, a tradition dating back centuries in Arabia. Falconry displays allow you to witness the remarkable bond between falcons and their skilled handlers. You can even have the opportunity to handle these magnificent birds under the supervision of experienced field guides.

Horse Riding:

 Discover the rich history of Arabian horses as you embark on a guided horse ride. These majestic creatures have been part of the region's heritage for generations. While we recommend this activity for experienced riders, it offers a unique way to connect with the desert. 

Guided Nature Walks:

 For those seeking an energetic adventure, request a guided walk through the reserve. This opportunity allows you to immerse yourself in the desert environment, with the chance to spot desert wildlife and birdlife. 
Afternoon Activities:
Camel Safaris:

 Led by experienced camel handlers and field guides, these rides offer a serene way to connect with the natural splendor of the Arabian Desert. The journey includes a stop for sundown drinks in the dunes before returning to the resort. No prior experience is required. 

Archery:

 Test your aim and precision with the age-old sport of archery. Whether you're a seasoned archer or a beginner, this activity is a fun challenge for all skill levels.

Sundowners:

 As an alternative to camel safaris, enjoy a short vehicle trip to the dunes, where you can toast to the setting sun in the tranquil beauty of the desert. It's a perfect way to wind down your day at Al Maha.

Day 7: Dune Adventures 
Morning: Dune Adventure 
Your last day culminates in a 4×4 dune driving experience that promises to be both exhilarating and symbolic. It's a nod to the adventurous spirit of the Bedouin people, who have navigated these dunes for centuries.
Deep Dive: Dune driving isn't just about the thrill; it's also about skill and technique. The Bedouin mastered the art of navigating the desert landscape long before modern vehicles, using superbly adapted camels to the harsh environment.
Afternoon: Head back to Dubai Airport or Oman
         Oman overall has great animal and plant biodiversity because it has mountains, desert, coastal areas and rich coral reefs.
         –  Saadi
If you are heading home, the drive from Al Maha to Dubai is a scenic transition from the serene desert landscapes to the vibrant city, marking the end of your UAE adventure. However, if you have a few extra days, we recommend extending the trip and heading to Oman.
Optional 3-night Extension -Desert Luxury to Coastal Adventure in Oman
When it comes to luxury travel, the UAE's Al Maha Desert Resort & Spa is a haven of luxury and tranquility. However, what if we told you you can elevate your desert escape by extending it to the pristine shores of Oman's Zighy Bay? For travelers with a few extra days, we recommend embarking on a 3-night adventure that seamlessly transitions from the Dubai desert to the Omani coast, promising unforgettable experiences and breathtaking landscapes.
Zighy Bay Six Senses: A Coastal Oasis
The journey from Al Maha to Zighy Bay spans approximately 300 kilometers (about 186 miles) by road, taking you on a picturesque route. The drive lasts around 2.5 to 3 hours, showcasing the rugged mountainous terrain and the coastal road hugging the shoreline. 
Oman's natural beauty, rich cultural heritage, and warm hospitality make it a truly remarkable destination during your luxury getaway to Oman. Zighy Bay, in particular, showcases Oman's stunning landscapes, from towering mountains to tranquil beaches and crystal-clear waters. The country's commitment to sustainable tourism ensures you enjoy its natural wonders while preserving its delicate ecosystems. Oman's culture is deeply rooted in tradition, offering a glimpse into the Arabian Peninsula's history through its forts, vibrant markets, and the welcoming communities of its people.
The arrival into the Zighy Bay resort alone is worth the journey as you make a thrilling entrance paragliding to reception! This extraordinary experience elevates your entire trip to new heights, literally and metaphorically. As you soar through the endless blue skies, the sense of exhilaration and freedom is overwhelming. It's not just an entrance; it's an adventure that offers unparalleled views of the rugged Omani coastline and the azure expanse of the Gulf of Oman. The adrenaline coursing through your veins perfectly complements the pristine natural beauty that unfolds beneath you. This grand cinematic entrance sets the stage for the exceptional stay that awaits at Zighy Bay Six Senses, marking another remarkable chapter in your travel story.
Touching down in Zighy Bay, you'll find yourself at the luxurious Zighy Bay Six Senses resort, marking another remarkable chapter in your luxury getaway to Dubai and Oman. Nestled between the imposing Hajar Mountains and the pristine shoreline, this resort blends rustic elegance and modern comfort. The architecture seamlessly integrates with the breathtaking natural surroundings, creating an inviting and awe-inspiring ambiance. You'll quickly understand why Zighy Bay is considered one of Oman's hidden gems.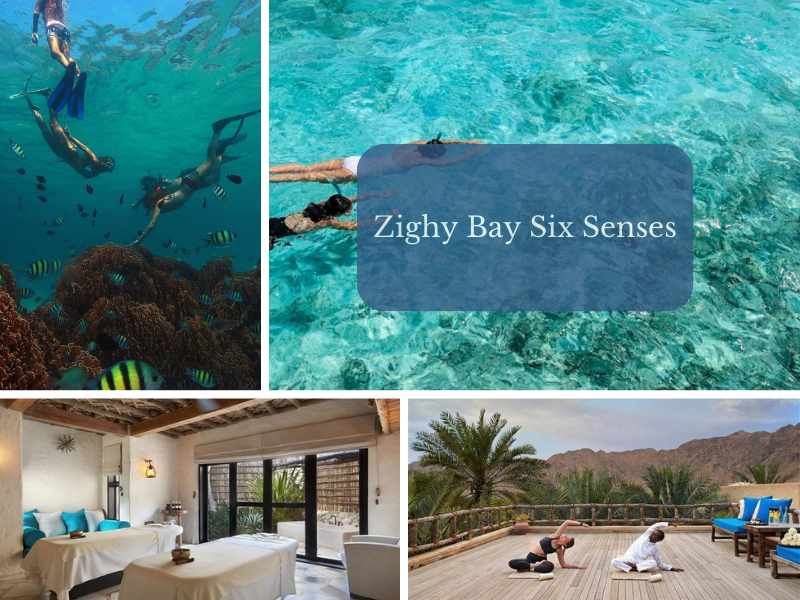 Day 8:
Scuba and Spa 
Morning Scuba Diving in Zighy Bay: Exploring the Underwater Wonderland – Dive into Your Luxury Getaway in to Dubai and Oman
For diving enthusiasts, Zighy Bay is a paradise waiting to be explored during your luxury getaway to Dubai and Oman. The warm waters of the Gulf of Oman teem with marine life and vibrant coral reefs. Whether you're a seasoned diver or just starting, the resort offers guided scuba diving excursions that allow you to immerse yourself in the underwater wonders of the Arabian Sea. Swim among colorful fish, explore coral gardens, and perhaps encounter majestic sea turtles and graceful rays – it's a scuba diver's dream come true.
If you are not a diver, take the morning to relax at your private hotel pool, enjoy a low-key beach day or take a romantic cruise around the bay on a traditional Dhow boat. 
Afternoon: Spa 
The Six Senses Spa at Zighy Bay, Oman, is a wellness sanctuary within breathtaking natural beauty, enhancing your high-end getaway to Oman. With a harmonious blend of Eastern and Western healing traditions, it offers a range of treatments, from soothing massages to rejuvenating facials. Spa villas with stunning sea views create an atmosphere of serenity and escape, while yoga and meditation sessions enhance inner well-being. Specialized wellness programs cater to individual health goals, and luxurious amenities, including steam rooms and saunas, complete the experience. Committed to sustainability, the spa uses natural, locally sourced ingredients and eco-friendly practices. 
Day 9: Speedboats and Bedouine Dinners
Morning: Speedboat tour of the Musandam Peninsula
Embarking on a speedboat tour of the Musandam Peninsula from Six Senses Zighy Bay reveals the rugged beauty of this Omani gem. As you depart from the resort and board the high-speed boat, the dramatic fjords, imposing cliffs, and pristine beaches of Musandam offer breathtaking views at every turn.
Keep an eye out for playful dolphins and, when the opportunity arises, snorkel amidst vibrant coral reefs. Explore hidden caves and grottoes, accessible only by boat, adding an element of mystery to your journey. Stops at secluded beaches allow for relaxation and immersion in the unspoiled coastal charm. With experienced guides to enrich your understanding of the region's geology, marine life, and culture, this speedboat tour is a dynamic blend of adrenaline and exploration, showcasing the untamed allure of Musandam.
Evening: Bedouin Dinner
Tonight, enjoy Zighy Bay's signature Bedouin dining encounter, a cultural experience to remember during your  luxury getaway to Dubai and Oman. With your feet in the sand and a drink in your hand, you will be spoiled by genuine Bedouin hospitality as you sample delicious traditional mezze, Omani Shua lamb and a selection of sliced fruit, barazek and date maamoul cookies.
Day 10: D
eparture Home 
As your incredible trip comes to a close, remember that this itinerary is more than just a series of activities; it's a captivating journey where each day unfolds like a chapter in a compelling story. A week in Dubai, seen through this lens, becomes an opportunity to embrace luxury and culture in equal measure. At the same time, your experience in Oman reconnects you with nature and the sea. It's not just about celebrating life; it's about adding depth and enjoyment to your ongoing journey of self-discovery. Let us be your guide whether you are celebrating a birthday or anniversary or simply escaping for a week of luxury adventure, this itinerary offers a beautiful way to discover the best of Dubai and Oman. Get ready to experience the extraordinary luxury journey in these two countries with Boutique Travel Advisors, providing you with the Ultimate Luxury Dubai & Oman Journey. 
—
Boutique Travel Advisors is a full-service, luxury travel agency. We specialize in creating bespoke itineraries for discerning clients around the world. Please visit our website or call 480-787-1477 to speak with a dedicated travel expert. 
Are you planning an international or domestic trip? Check out our other articles to help you come prepared!
We highly recommend the purchase of travel insurance to protect your financial investment and health while traveling internationally. To purchase a policy with our preferred travel insurance company Chubb click here.
At this time, anyone that resides in CA, CO, KS, MN, MO, MT, NH, NY, PA, TX or WA is unable to purchase an insurance policy online. If you would like assistance purchasing a travel insurance policy, please get in touch with a BTA advisor.