Our users support our website. Therefore, we sometimes earn affiliate commissions when you click through the affiliate links on our website. Rest assured that all of our recommendations are made whole-heartedly with the intent of helping travelers like you discover the world authentically and responsibly.
The holidays are here and we're willing to bet you have some jetsetters to shop for. While nothing is better than the gift of travel, we went beyond the compression socks, great suitcases, and noise-cancelling headphones that abound on every list. Here are our favorites compiled into an ultimate holiday gift guide.
Ever dream of having your very own points concierge? Now you can. Our friend Eli's passion for points has spanned the better part of a decade and he's maximizing miles for the true and frequent jet set. Mention BTA for 10% off your initial buy-in.
Hotel Linens
Italian linen brands like Sferra, Frette, and Bellino Linens are probably outfitting one of your favorite luxury hotel's beds – so why not yours? If you have a favorite hotel in mind though – chances are they have a shop too. Check out Four Seasons, Edition (among other Marriott brands), and Fairmont for some favorites. For the conscious consumer in your life, Post Ranch Inn offers made-to-order sheet sets that are chemical and dye free, and use 50% less water during the production process.
Staycation
Need an excuse for an AZ Staycation? The Miraval Cyber Sale (only bookable through your travel advisor until it goes live) gets you a $275 nightly resort credit (usually $175), in addition to our usual Virtuoso Amenities.
Books
You know everyone's favorite book aesthetic Assouline, but maybe you haven't heard of Holiday: The Best Travel Magazine that Ever Was – yet another gorgeous coffee table book. However, this one is all nostalgia – showcasing the romance that is "the golden age of travel" from 1946 and 1977. A must have! No holiday gift guide would be complete without this fantastic literature.
National Geographic's Journeys of a Lifetime – Don't just dream. Make plans. No better book to get you started.
The Art of Flaneuring: How to Wander with Intention and Discover a Better Life – A fun and practical guide to cultivating a more mindful and fulfilling everyday life by tapping into your inner wanderer.
Travel Essentials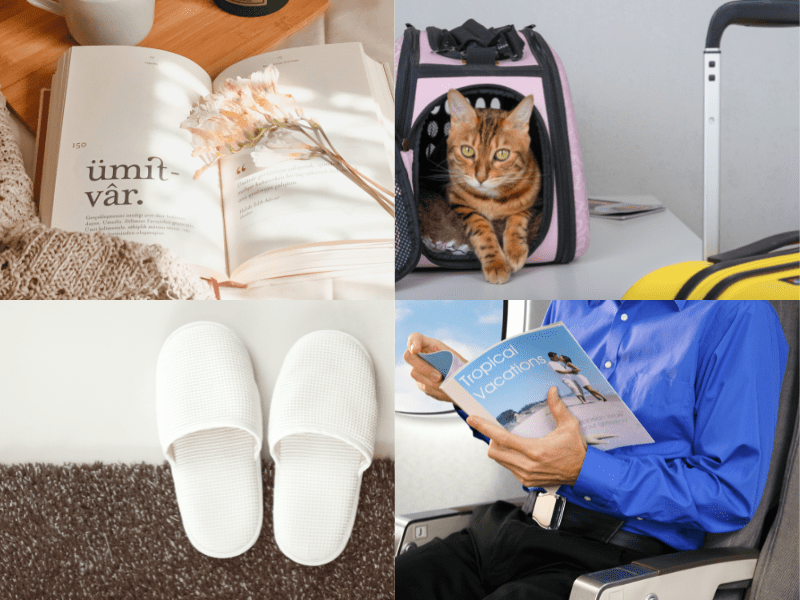 Varley's signature DoubleSoft fabric is like butter, and is sure to be a part of your new favorite 'fit for travel days.
Bombas Slippers – Who said slippers were only for long-haul flights? Nobody, that's who.
Cabana Pet Carrier for furry friends who also like to travel in style.
Packing Cubes with Purpose – Cotopaxi are made in the Philippines at a factory committed to fair labor and environmentally sound practices. No scrap of fabric goes to waste in the production of their colorful Del Dia collection.
Beis makes some of our favorite travel gear and accessories. Right now we're crushing on the water bottle sling, packable backpack, and anything from their new Air Collection.
Airfly is a nifty device that allows you to connect your AirPods, or any wireless headphones, to the airplane TV. Enough said. They even have an Airfly Duo so you and your companion can listen in sync to your favorite podcasts and songs.
Solis Lite Hotspot and Power Bank – Ditch your cell phone carrier with fast, secure 4G LTE Wi-Fi at your fingertips in 135+ countries.
LRNCE Homewares – Belgian sun-chaser Laurence Leenaert crafts unique, handmade pieces out of Marrakech. Sure to fit in with your desert dwelling out here in the Valley of the Sun.
La DoubleJ – This maximalist Milanese lifestyle label was made for luxury-seekers with style. New fashion made with archival prints, cool home design and rare vintage – you'll be sure to please even the most discerning giftee, or at least find something to spoil yourself with.
Now that you have read our holiday gift guide you are ready to shop for your favorite jetsetters! For even more ideas, check out our list of the top travel essentials.
Happy Holidays!
Boutique Travel Advisors is a full-service, luxury travel agency. We specialize in creating bespoke itineraries for discerning clients around the world. Please visit our website or call 480-787-1477 to speak with a dedicated travel expert. 
Are you planning an international or domestic trip? Check out our other articles to help you come prepared!
We highly recommend the purchase of travel insurance to protect your financial investment and health while traveling internationally. To purchase a policy with our preferred travel insurance company Chubb click here.
At this time, anyone that resides in CA, CO, KS, MN, MO, MT, NH, NY, PA, TX or WA is unable to purchase an insurance policy online. If you would like assistance purchasing a travel insurance policy, please get in touch with a BTA advisor.