As parents who have spent the past decade flying with children around the world we know that although they are sometimes excited, well behaved and self-sufficient they are also frequently tired, cranky and non-compliant. All parents who go on vacation with their children understand that the flights are by FAR the most difficult parts of the journey! Lets face it sitting in tiny, cramped quarters for hours while changing time zones, dealing with turbulence, being told when you can and cannot go to the bathroom all while getting dirty looks from strangers is NOT fun for anyone. In an effort to make flying with chidlren slightly more tolerable for the kids and the other passengers, BTA has come up with a list of the top 10 items that will save parent's sanity on the next flight.
This fun and innovative suitcase fits within carry-on standard 20 x 18 x 10 inches dimension requirements of scheduled, charter and low cost airlines. The 14.75 gallon capacity leaves plenty of room to pack it full of your child's toys, games, books and spare clothes needed on vacation. These suitcases truly are the perfect travel companion when flying with children.
Although AAP recommends limiting the screen time, long car rids and flying with children make this Tablet an absolute Must-Have! New purchases come with a 1 year subscription to Amazon FreeTime Unlimited subscription. Get content specifically targeted for kids ages 3-12. Stocked with over 15,000 age appropriate books, movies, TV shows, educational apps, and games. Rest assured that your kids are safely entertained. BTA particularly loves the individual child profiles which allow parents to set bedtime curfews. With Learn First, you can block access to videos and games until educational targets such as reading goals are met.
3. Kids Headphones
An absolute must so that your kids can enjoy their videos, games and music without disrupting the other passengers or their siblings. BTA particularly likes the safe 85 decibel volume limit so your child won't be exposed to sounds much louder than a home garbage disposal. They also come with an adjustable headband for a universal fit, in-line microphone and easy volume controls. These are made from environmentally friendly materials. Win-Win for the planet and children.
This awesome E-Writer gives parents some rest when flying with children. Little Einsteins can draw pictures, practice writing letters, spell sight words, solve math problems or play games. Erase the image with the touch of a button – and a friendly flash from the liquid crystal display. Best part is that the sealed 3V watch battery never needs replacing.The Boogie Board tablet is 1/8″ thin and is easily fits in backpacks and carryons. The Boogie Board tablet's pressure-sensitive LCD writing surface creates lines of different thickness based on how hard you push. Just like paper and pen. 
Kids can sleep through Trans-Atlantic flights for hours as a result of having this amazing pillow. Although there are many other similar products this one as it folds up nicely when not in use and doesn't require a pump to inflate. The Travel Pillow is designed to help your child spread out when they sleep rather than lie across their parents, siblings and other passengers.

6. Mifold Grab-and-Go Booster
After lugging around car seats and boosters from state to state and country to country, often forgetting them or intentionally leaving them in the airports because we got tired of transporting ONE MORE item BTA fell in love with this brilliant invention. More than 10x smaller than a regular booster seat and just as safe. 
The advanced, compact, and portable booster seat is designed for kids aged 4 and up, 40 to 100 lbs, and 40 to 57 inches tall. Fold it up and pack it in your child's backpack, trunkie or glove compartment. Perfect companion when flying with children.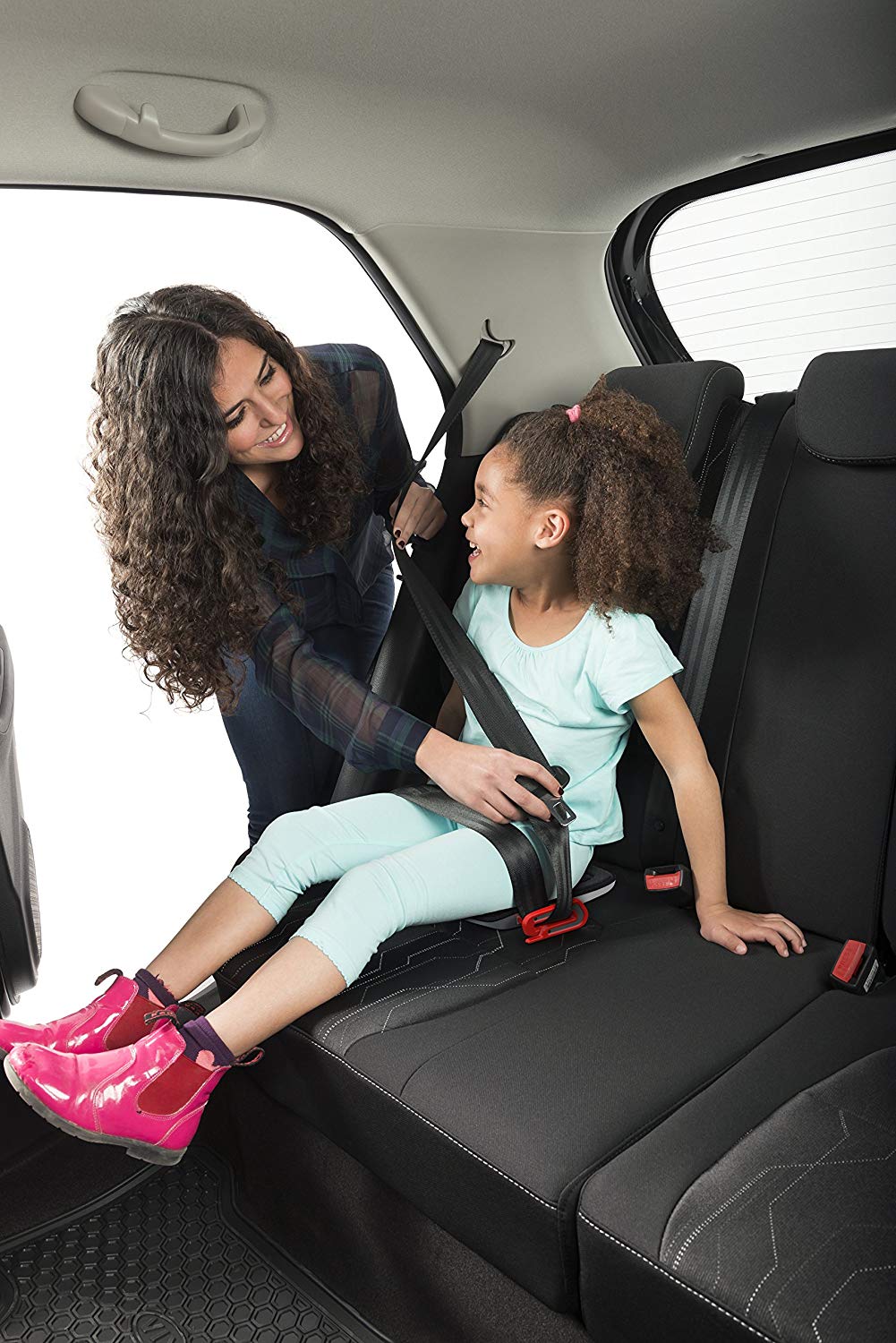 Nothing is more aggravating than realizing your phone, computer or much needed tech accessory is out of battery on a long flight. While some airlines have outfitted their planes with in seat charging many others are sadly behind the times. BTA recommends this cool little deceive which is equipped with advanced PD technology and provides fast charging for any of your USB Type C-enabled device. USB C cable or lightning to USB C cable is not included. iPhone 8, iPhone 8 Plus, or iPhone X could be fully charged in a few minutes
Do you ever catch a glimpse of your kids sleeping in cars or on planes with their heads bobbing precariously up and down and wonder "how can they sleep like that?!" Well wonder no more because this neck pillow is designed with kids anatomy in mind. It offers chin, neck and entire head support, keeping the head from bobbing and allowing kids and parents to get longer periods of restful sleep. 
This perfectly sized, endless entertainment logic game is a great alternative to electronics for both mid and long haul flights. It Contains 40 challenges ranging from beginner to expert that become increasingly difficult as you play through. Parents can now have a little fun when flying with children.

10. 

Some Good Books

Nothing beats reading to children. Whether a quick 2 hour jaunt or an 8 hour overnight flight, bring some good books and use this time to connect with your children, grow their imaginations and help them seethe world in a new light.

—

Boutique Travel Advisors is a full-service, luxury travel agency. We specialize in creating bespoke itineraries for discerning clients around the world. Please visit our website or call 480-787-1477 to speak with a dedicated travel expert. 

Are you planning an international or domestic trip? Check out our other articles to help you come prepared!

We highly recommend the purchase of travel insurance to protect your financial investment and health while traveling internationally. To purchase a policy with our preferred travel insurance company Chubb click here.

At this time, anyone that resides in CA, CO, KS, MN, MO, MT, NH, NY, PA, TX or WA is unable to purchase an insurance policy online. If you would like assistance purchasing a travel insurance policy, please get in touch with a BTA advisor.