To the lover of wilderness, Alaska is one of the most wonderful countries in the world. – John Muir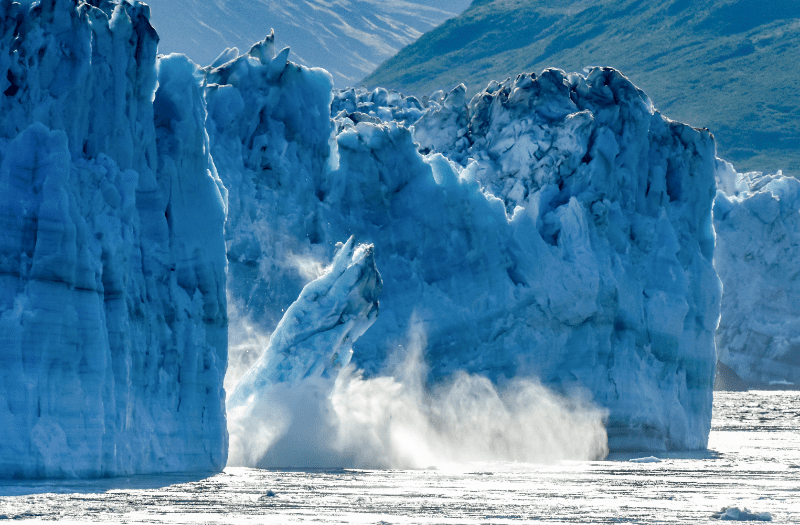 This quote is a perfect summation of what every visitor to Alaska feels upon arrival. Alaska is a natural wonder and a true "paradise on earth." Explore spectacular national parks that are unlike any others in the world, get up close and personal with diverse wildlife, fall asleep under the northern lights, and leave rejuvenated and recharged. We want to help you understand how to plan an Alaskan land adventure with the top must-see sights and experiences. 
When most travelers first consider planning an Alaskan itinerary, cruising seems to be the logical choice. Alaskan cruises are an excellent and convenient way to explore the coastlines, glaciers, and remote regions. However, although cruising may be the most popular way to travel around Alaska, you can also experience this picturesque land via other means such as cars, private tours, and train journeys.  
Alaskan land adventure itineraries allow you to explore the surreal beauty, snow-capped mountains, wildlife, and Alaska towns at a leisurely pace and during off-peak times (when cruises are not available). If you are planning to visit Alaska and not sure how to get started, read on. 
Here is our list of top must-see places and experiences you can enjoy on an Alaskan land adventure.
Visit Anchorage
Anchorage, also known as the "jewel of Alaska," is an awe-inspiring city that blends modern conveniences with natural wonders. Anchorage is also an ideal jumping-off point to explore other regions, providing easy access to Alaska's wild landscapes. 
Some of our favorite things to do in Anchorage include riding a bicycle on the Tony Knowles Coastal Trail, diving into Chugach State Park (subject to the weather conditions), and embarking on a scenic flight over glaciers.
Kenai Fjords, National Park
Kenai Fjords National Park is located just outside the town of Seward and 126 miles south of Anchorage. The park is home to tumbling glaciers, mighty mountains, lush forests, and abundant wildlife. It is accessible by boat, air, or on foot. However, Exit Glacier is the only area of the park accessible by car where people can walk on the trails or take a guided tour across the icy landscape. 
For travelers interested in exploring the park's marine life, day cruises offer an opportunity to spot whales, puffins, sea otters, and sea lions.
Denali National Park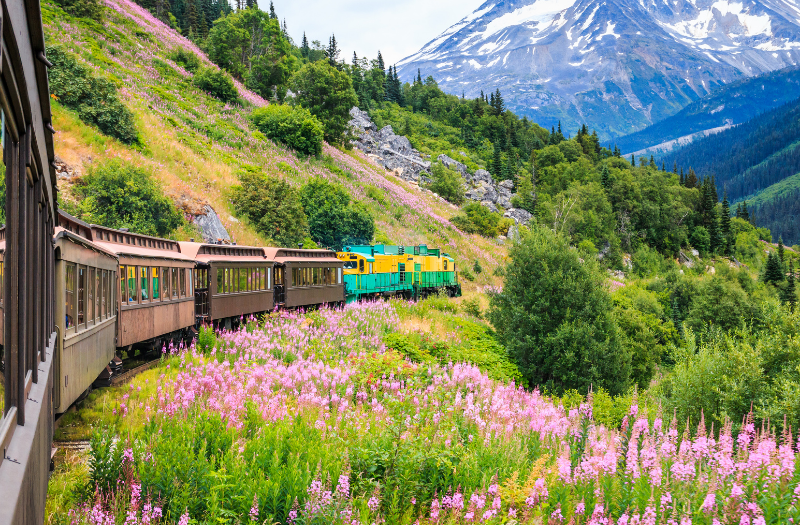 Another gem of Alaska is Denali National Park.  Spanning over 6 million acres of land, the park offers endless activities for visitors with stunning views of tundra terrains, glaciers, and forests. The park is also home to exotic wildlife such as Alaska's grizzly bears, moose, Dall sheep, and wolves. Popular activities to do here include biking, mountaineering, and hiking.
For a uniquely Alaskan experience, stay in one of the lodges within Denali park. If you are short on time, spend a night in Talkeetna – a base for Denali tours located an easy two-hour drive from Anchorage. We recommend using an experienced and reputable supplier to help you understand how to plan an Alaskan land adventure that incorporates Denali National Park. 
Seward Alaska
Snow-capped mountains, wild oceans, and a colorful town are what awaits you when visiting Seward. The small yet breathtaking town offers adventurous activities to avid hikers and travelers. One of the most popular excursions is the zipline tour at Stoney Creek Canopy. This 3-hour long tour takes the visitors down eight adrenaline zip lines along a woodland walkaway featuring surreal views of Alaska's majestic beauty. 
Another interesting place you can travel to by road is the Seward Boat Harbor, where you can spot cruise liners, fishing charter boats, and the US Navy. You can also take a boat tour if you wish. Seward Boat Harbor is a peaceful place to sit and enjoy the scenic views of the surroundings. Although there are several ways to reach Seward, the most scenic is via the Alaskan Railroad, which runs from May to September. This route takes you from Anchorage to Seward, making a brief stop in Girdwood.  
Dog Sledding
Imagine yourself speeding through wild forests, taking in sweeping views while being pulled on a sled by Alaska's powerful dogs. Exciting, isn't it? Dog sledding is not just a sport in Alaska, it is a tradition, and can we say obsession? Visitors can enjoy dog sledding tours in Denali, Juneau, Anchorage, Fairbanks, and Girdwood. 
There are three different kinds of tours you can partake in. When most people think of dog sledding in Alaska, they imagine mushing through snow, Iditarod-style. While this is undoubtedly an incredible experience, you can also go dog sledding at lower elevations in the summer months. 
If your idea of fun includes visiting a kennel, cuddling puppies, and riding on wheeled training carts, "Party on wheels" is the perfect activity to do in the summer months. Another summer dog sledding tour is via helicopter. The helicopter takes you to a glacier where you enjoy dog sledding along with the panoramic views of Alaska. Helicopter tours typically start at $250 and up per person. The third option, dog mushing, is available during Alaska's magnificent winter season from November to March. Visitors may ride in the sled or take turns behind it and mush through the Alaskan snow, marveling at the majestic scenery. 
Glacier Hiking
Many of Alaska's glaciers are accessible to hikers. These glaciers allow visitors to experience a winter wonderland in the summer season. While many people embark on self-guided hikes, we recommend professionally guided tours. Hiking with an expert guide allows visitors to understand the region's history and geography and avoid potentially dangerous situations such as getting lost in the wilderness or encountering wildlife up close without the necessary preparation.
Exit Glacier is a snow-covered region within Kenai Fjords National Park and offers a 4-mile uphill hike easily accessible and free of cost. Other glaciers accessible on foot include Ruth Glacier, Worthington Glacier, Spencer Glacier, and Knik Glacier. 
Unfortunately, many of Alaska's mighty glaciers are disappearing. If you want to know how to plan an Alaskan land adventure that you will never forget, hike the glaciers while you still have a chance! 
Scenic Helicopter Rides
If you are short on time but want to experience a glacier expedition, helicopter rides provide opportunities to view the glaciers from the air and make glacier landings. Tours are available from Anchorage and take visitors through picturesque landscapes with stops on Knik Glacier, where you can get up and close to the ice.
You can walk on snow, spot the wildlife, and take beautiful Instagram-worthy pictures. This tour's cost typically starts from $500, and the time duration is around one hour and fifteen minutes. There are many other options of glacier landing via helicopter, depending on your budget and time limit.  
Kayaking Tours
Take your water exploration in Alaska to a whole new level and explore the sea by kayak or raft. Prepare to spot marine life such as sea otters, puffins, whales, and sea lions. Half-day tours are typical for families with younger children and beginners. Experienced kayakers and adventure seekers can opt for full-day or multi-day itineraries. Pricing for a half-day kayak tour starts around $100/person. Pricing varies significantly depending on location, group size, and equipment quality. Using a reputable tour operator is imperative to ensure safety and enjoyment.
Figuring out how to plan an Alaskan land adventure and create the perfect itinerary can be logistically complicated. However, for those willing to take on the challenges, the rewards are immeasurable. Do your research and carefully plan the activities you want to do in Alaska ahead of time, and remember to plan an itinerary that feels right for you. Keep in mind your budget, physical fitness level, stamina, and obviously, personal interests. 
Have a nice trip to Alaska! If you have already been to this winter paradise, share your experience with us in the comments. 
Boutique Travel Advisors is a full-service, luxury travel agency. We specialize in creating bespoke itineraries for discerning clients around the world. Please visit our website or call 480-787-1477 to speak with a dedicated travel expert. 
Are you planning an international or domestic trip? Check out our other articles to help you come prepared!
We highly recommend the purchase of travel insurance to protect your financial investment and health while traveling internationally. To purchase a policy with our preferred travel insurance company Chubb click here.
At this time, anyone that resides in CA, CO, KS, MN, MO, MT, NH, NY, PA, TX or WA is unable to purchase an insurance policy online. If you would like assistance purchasing a travel insurance policy, please get in touch with a BTA advisor.
Images & Other Info Provided by the hotels and subject to copyright.