As the world adapts to the new norms of practicing social distancing, travelers are craving wide-open spaces, beautiful views, off the beaten path locations and exceptional standards of cleanliness, without sacrificing comfort and service. Thousands of hotels post tantalizing photos and promise the world to attract visitors. Our team has put together a list of some of our favorite luxury social distancing hotels in the West. These properties guarantee adventure, relaxation, and privacy.
Sage Lodge, Yellowstone National Park, Montana
Sage Lodge beckons travelers to explore the splendor of our first National Park from the comfort of a beautiful and serene property. Nestled on the idyllic banks of the Yellowstone River, the lodge features 50 guest rooms, including a 34-room main lodge and four standalone Ranch Houses. Located an easy 60 miles from Bozeman Airport and a quick 35-minute drive to Yellowstone National Park. Sage Lodge is set on over 1,200 acres of a rural landscape, making it the perfect social distancing location. Guests enjoy an onsite private casting pond, hiking and biking trails, expansive views of the Paradise Valley, and over a mile of Yellowstone River access.
Sage Lodge is home to The Grill and The Fireside Room, which offer a range of dining options. Sage's onsite luxury spa, offers a full-service menu of treatments, with a focus on natural ingredients and relaxing herbal fusions.
Blessed with 4 gorgeous seasons the lodge offers year-round activities. Summer excursions include fishing, rafting, hiking, mountain biking, and llama treks. Snowshoe rentals, and cross country skiing offer hours of fun in the winter. Animal enthusiasts will rejoice as the region is home to hundreds of rare species. With ample space, bears, bison, elk, wolves, and antelope all roam freely. Whether a romantic getaway or a family adventure, the lodge allows for exploration of Montana's backcountry and Yellowstone National Park.
Amangiri, Canyon Point, Utah
The Amangiri hotel is arguably one of the most splendid and architecturally masterful properties ever built in the United States. Quietly set amongst a 600-acre wilderness sanctuary in Southern Utah the hotel attracts billionaires and celebrities seeking isolation and peace. Guests can choose to spend their days rejuvenating in the 25,000 square foot spa, navigating ancient slot canyons, gorges, rivers, and mesas or exploring nearby National Parks. For an unforgettable experience, spend the night under a blanket of stars, in the tented Pavilions of Camp Sarika. Exquisite views, exceptional cuisine, extraordinary experiences, and 5-star service are the hallmarks of this breathtaking hotel.
While the hotel is beloved by couples seeking to escape the stressors of daily life it also caters to families and provides engaging programs for young explorers. Amangiri is truly one of the most luxurious social distancing hotels in the West.
Edgewood Tahoe, Lake Tahoe, Nevada

Set on the shores of the mesmerizing and world-famous, lake Tahoe, the beautiful Edgewood Tahoe features 154 luxurious rooms, an 8,500-square-foot spa, and award-winning 18-hole championship golf course. Enjoy a wide array of dining, shopping, and outdoor activity options on the lake and the slopes. From sleigh rides and epic downhill ski runs to parasailing, boating and kayaking, Edgewood Tahoe offers a variety of experiences for every type of traveler. The vast trail systems, hidden coves, and open water activities are perfect for travelers practicing social distancing. Explore this world-class destination while enjoying the impeccable service and luxury accommodations of the Edgewood.
Voted Hotel of the Year, USA & Canada, by Preferred Hotels & Resorts in 2019 #1 Resort Hotel in the U.S. by readers of Travel + Leisure in 2018, the accolades are certainly well deserved.
Post Ranch Inn, Big Sur, California
Leave your children at home and escape for an unparalleled adult only, exclusive, sanctum getaway. Whether enjoying a girl's weekend or an overdue romantic sojourn, the magnificent Post Ranch Inn's 39 rooms and suites will impress even the most discerning traveler. The Inn boasts 360-degree coastal views from the seemingly precarious rocky cliffs on which it is built. The mountainous terrain and extraordinary scenery of Big Sur provide the backdrop for Post Ranch Inn beckoning travelers to embrace the serenity that awaits them. Travelers come here to rejuvenate and reconnect and the Inn's recycled-redwood rooms offer privacy and seclusion. Post Ranch Inn is also committed to sustainability and the property is powered by solar panels with guests chauffeured in Lexus hybrid vehicles. Enjoy delicious cuisine at Sierra Mar and get pampered in the luxurious spa.
While the hotel is perfectly secluded but located only 30 miles south of Carmel and 150 miles south of San Francisco. En route to the hotel, travelers can stop off to explore the famous Monterey Bay Aquarium, historic Bixby Bridge, 17 Mile-Drive, and the Point Sur Lighthouse.  The drive along the iconic Highway 1 is just part of the extraordinary experience and entirely conducive to safely experiencing luxury social distancing hotels in the West.
*Note- the hotel is currently closed and plans to reopen July 1, 2020.
Sorrel River Ranch, Moab, Utah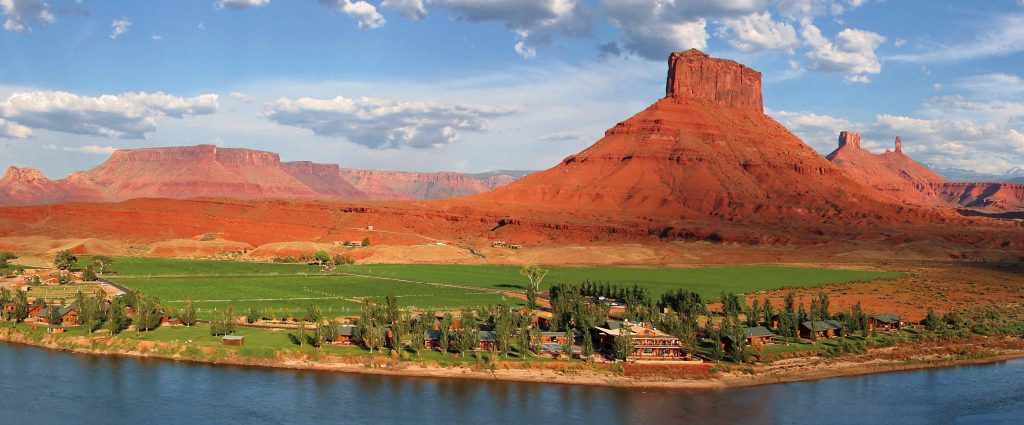 Located on the banks of the Colorado River amid Moab, Utah's famous red buttes, the Sorrel River Ranch is the gateway to exploring Arches National Park and Canyonlands National Park. The Ranch's 55 rooms and suites are spread out along 240 acres, ensuring this riverside oasis offers a plethora of activities, such as horseback riding, canyoneering, rafting, and hay-rides. Unwind by the pool or relax your cares away with a tranquil "melting horse river stone massage" at the spa. Escape the noise and chaos of daily life and take pleasure in the simplicity and beauty of nature.
Gateway Canyons Resort, Gateway, Colorado
Nestled in Western Colorado's heart of Red Rock Country, in the secluded Unaweep Canyon, nature's splendor is on full display at the Gateway Canyons Resort. In the midst of the vast Uncompahgre Plateau, Piñon Mesa and La Sal Mountains lies a resort that embodies the history and beauty of its surroundings. Gateway Canyons offers a multitude of activity options with social distancing built-in. Located an hour south of Grand Junction, on over 500 acres the resort was seemingly built to withstand apocalyptic events without compromising on comfort or luxurious design.
Boasting a wide range of activities including hiking, horseback riding, climbing, mountain biking, sky adventures, and off-road tours the resort is popular with families and thrill-seekers alike where every fantasy can be indulged. Earning top honors it won the prestige #10 spot for Top Resort in the U.S. by Condé Nast Traveler Readers' Choice Awards, 2019, and #1 Hotel for Families by Travel + Leisure World's Best Awards, 2017 making it a great choice to experience luxury social distancing hotels in the West.
*Book with your Boutique Travel Advisor to receive exclusive rates, complimentary amenities, and VIP service.