Explore the stunning Moselle River with Avalon Waterways on the Imagery II during an 8-day active and discovery cruise. Enjoy guided hikes and bike tours, wine tastings, and cultural experiences while cruising through picturesque towns and charming villages. Read our expert review for more details.
Europe is one of my favorite destinations in the world. I love the history, culture, art, music, food, wine, and the plethora of outdoor activities. But, while we often travel to Europe and have explored cities, villages, towns, and hidden gems of many countries by land and sea, this time around, I wanted to experience traveling entirely differently. So, I brought my husband along for an 8-day, 7-night active, and discovery Moselle European River cruise with Avalon Waterways in May 2022. Our trip on the Avalon Imagery II started in Luxembourg and ended in Frankfurt, Germany. Throughout our time, we explored ancient fortresses and wine and dined in beautiful vineyard towns. We also enjoyed the beauty of the outdoors and spent several days hiking on the hillsides and running and biking along the river.
Our overall experience aboard the Avalon Imagery II was fantastic. The service we received was terrific, and the level of attentiveness the staff demonstrated made our trip both relaxing and enjoyable. Every single staff member we encountered on the journey, from the servers in the restaurants to the housekeepers to our fantastic trip conductor, exuded excitement, attentiveness, and true love of their job.
Day 1 – We Begin Our European River Cruise on The Moselle 
After a long travel day, we arrived in Luxembourg (one of the easiest and smallest airports in Europe), met our driver, and headed to the ship, docked in Remich. The town is small compared to others in the area and is home to around 3,000 citizens, making up the border between Luxembourg and Germany. However, once you walk a few blocks from the river, you'll start to notice the town's character and underrated charm. Remich is filled with small markets, social events celebrating culture, and many nature parks and vineyards.
We arrived at the boat around 11 am, and although our room was not yet ready, the crew onboard the Avalon Imagery II welcomed us with drinks and appetizers. They hurried to prepare our room and allowed us to check in early. One of my favorite parts of the trip was staying in our beautiful Panomara Suite, which gave us a gorgeous floor-to-ceiling view of the river and the towns we were slowly moving by. In addition, I was impressed with the size of the bathroom, the quality of the amenities, and twice-daily housekeeping. We spent a relaxing first evening getting to know the staff and catching up with fellow travelers. After that, we could not wait for our European Moselle river cruise to begin.
Day 2 – Exploring Luxembourg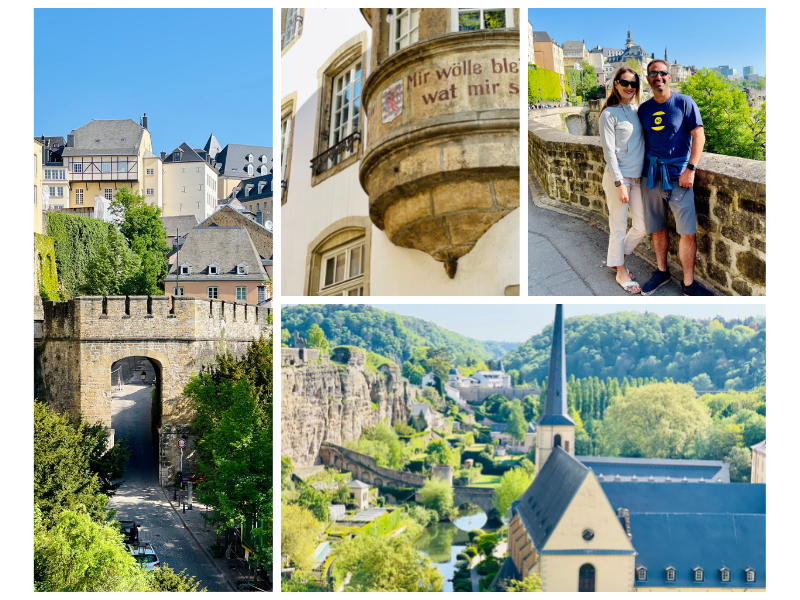 On the first full day of our Avalon river cruises trip, we took a guided excursion to explore the city of Luxembourg, which has been on my list of places to visit for many years. I've always known it to be a tiny country with a lot to offer, from unspoiled hiking trails to fairy-tale castles and proximity to many beautiful European cities. We walked through charming town squares, explored small shops and cafes, and took in the magnificent scenery.
We returned to the ship to enjoy another gourmet meal and sample delicious local wines while the boat sailed. That evening we opted for a walking tour of Trier, a town known as Germany's oldest city, which houses the landmark Porta Nigra, a UNESCO World Heritage Site built in the 2nd century as a magnificent Roman gate. Other treasures we witnessed were the Trier Cathedral treasury which houses St. Andrew's altar, and the "Holy Nail" reportedly used during Christ's crucifixion. We also walked through the market square, where we explored more historical medieval attractions, local living, and city center culture.
The town of Tier was one of the stops where I wished we'd had more time. The central squares come alive in the evening and nighttime, with local musicians, beer gardens (biergartens), and tourists and locals enjoying the carefree summer nights. Unfortunately, the town center was about 20 minutes from where our boat was docked for the night, and we were not confident we would find a taxi service if we stayed out too late. This is one challenging thing about European river cruises… you can never predict where they will dock overnight.
Day 3 – Lovely Bernkastel
On the morning of our third day, we found ourselves in another charming town, Bernkastel.
We opted to get active and signed up for a short hiking adventure that took us up to the castle. After burning a few calories, we spent some time exploring the quaint streets of Bernkastel and enjoying a quick beer in the square. The town is filled with half-timbered houses built centuries ago, so wandering around through cobblestones streets and historical landmarks was thoroughly enjoyable. Taking a European river cruise allowed us to see so many different towns and villages we would have otherwise missed.
That evening we docked in Traven-Trarbach and headed out with our group for a fun, wine-tasting adventure. We toured a local winery and cellar and learned much about the region's traditions and wine production. It was the perfect way to end a lovely day.
Day 4 – Biking The Moselle and Reichsburg Cochem Castle
The following morning, we were up early again for a fun-filled 27 km (16.7 miles) biking excursion along the Moselle river. While we chose the 'Active' category for our activity, the bike ride with our adventure host was not overly challenging (although you should be comfortable riding in varying terrain). The tour took about 3 hours, and we feel like we truly saw the best of what this region had to offer. Passing charming villages, quaint towns, and miles of rolling hills covered in vineyards, we felt like we were stepping back in time. At the end of the ride, we hopped on a ferry, crossed the river, and met up with our boat.
That afternoon our European river cruise sailed to Cochem, one of our favorite stops on this trip. Taking in the sheer beauty of this gorgeous town and the postcard views you get from the water was an experience I will never forget. The city is surrounded by steep vineyards and is the center of the area's wine trade. If you wander the town long enough, you will find many businesses offering daily tastings. We visited the Reichsburg Cochem  Castle with a group tour and then walked back down to explore and wander the cobbled streets on our own.
Day 5 – Off The Beaten Path
About 79 miles from Frankfurt lies the idyllic town of Koblenz. This gorgeous waterfront city allows visitors to see incredible 17th and 18th-century architecture. The Mittelrheim Museum is where you'll see Romanticism-era paintings that helped the nearby Rhiné Valley become so famous. You can also visit the vibrant Basilica of St. Kastor, hop on the ferry, and chairlift to Festung Ehrenbreitstein, a massive fortress overlooking the Rhine.
We opted to spend the day exploring the region on tour. At our first stop, we visited an old underground quarry where we learned about the people who worked here for centuries. We then stopped at the magnificent Maria Laach Abbey, where once again, we wished we had more time. The Benedictine abbey was built in the 11th-12th centuries and was initially called Laach Abbey (Lake Abbey). During WWII, the monastery was embroiled in controversy for collaborating with the Nazi regime.
In the afternoon, we explored the town of Koblenz and took in some of the beautiful architecture along the river. This city is a great place to begin boat rides. Explore the area along the Moselle, including Cochem, Mainz, and even Cologne. You also don't want to miss out on one of the newest attractions in town, the Koblenz Cable car that takes travelers on an exciting aerial journey to Ehrenbreitstein castle. This town was another favorite stop on our Moselle European river cruise.
Day 6 -St. Hildegard Abbey, Wine and Sweets
The next morning, we enjoyed a beautiful scenic ride along the river. We passed more castles than can count and relaxed on the ship for a few hours. Then we spent our afternoon exploring colorful Ruedesheim, a lovely little winemaking town on the Rhine river. While an excursion with transfers was available, we opted to walk up to Hildegard-Weg, the magnificent Benedictine Abbey on the hill. We learned that at St. Hildegard Abbey, the nuns operate an award-winning winery known for the "Best of the Riesling." We then met up with our group for a wine tasting experience before walking back through the vineyards to town.
First, we tasted traditional Ruedesheim coffee then visited the Siegfried Mechanical Music Museum. Finally, it was time to explore the city by tasting local food and beer.
Day 7 – Frankfurt and Frankenstein's Castle 
We explored a bit of the international town of Frankfurt on our last day, and this small city did not disappoint. In the 1950s, Frankfurt was rebuilt from the ruins following the bombings of World War II. Today, you'll see the vibrant city thriving better than ever. Frankfurt is considered a world business and transportation hub. Its fine opera, ballet, and world-class museums continue to amaze visitors worldwide. We also took a tour of the Frankenstein Castle (Burg Frankenstein). The castle is thought to have inspired Mary Shelley's famous novel. We ended our trip by walking around the Old Town and viewing houses dating back to the 14th and 15th centuries and sights like St. Paul's Cathedral, 13th-century Town Hall, and a gothic customs tower.
Day 8:
We ended our Moselle European river cruise with a delicious breakfast before heading back to the airport and on to Phoenix.
Taking Avalon Waterways allowed us to explore a new corner of Europe differently. If there were any negatives to our trip, they were slight and didn't affect our overall experience. First, we found the activities director to be a bit confusing. We were unsure of her role, and her participation in some activities felt disorganized. We also thought our Frankenstein Castle tour was the least interesting compared to other excursions. It was too long, and there was not much to actually see there as the castle was largely destroyed. Most of the other travelers we spoke to on this excursion also seemed exceedingly bored.
Other than a few hiccups, I highly recommend taking a river cruise with Avalon Waterways. The Panorama Suites on the Avalon Imagery II ship are lovely and nicely appointed. The floor-to-ceiling windows truly bring the outside in. Finally, I believe the Avalon river cruises staff is their "secret sauce." Their attentiveness and attention to detail were beyond 5 stars!
A luxury travel agent can help you find off the beaten path adventures like this one!
The Avalon Imagery II ship was built in 2016. However, unlike other ships of similar age, Imagery II has not started showing her age yet.
Passengers can choose from two full decks of Panorama Suites. These suites feature Wall-to-Wall Panoramic Windows creating a unique Open-Air style Balcony.
The Panorama Suites are 200 square feet, around 30% larger than the industry standard. Cabins are configured, so the beds face the floor-to-ceiling windows, which is a huge bonus.
Onboard amenities include:
Complimentary Wi-Fi access
A small yet functional Fitness Center
Alternative light dining options in the Panorama Bistro
An expansive Sky Deck with a whirlpool, premium shaded lounge chairs and deck games.
Configuration:
Fifty 200-square-foot Panorama Suites
Two 300-square-foot Royal Suites
Twelve standard cabins that are 172 square feet and have picture windows. We do not recommend booking these as you lose out on the experience of taking in the scenery while sailing.
Be sure to properly pack for your next cruise adventure! Additionally, if ocean cruises are more your style, consider looking at our list of the 8 best luxury cruise lines for ocean cruises. 
—
Boutique Travel Advisors is a full-service, luxury travel agency. We specialize in creating bespoke itineraries for discerning clients around the world. Please visit our website or call 480-787-1477 to speak with a dedicated travel expert. 
Are you planning an international or domestic trip? Check out our other articles to help you come prepared!
We highly recommend the purchase of travel insurance to protect your financial investment and health while traveling internationally. To purchase a policy with our preferred travel insurance company Chubb click here.
At this time, anyone that resides in CA, CO, KS, MN, MO, MT, NH, NY, PA, TX or WA is unable to purchase an insurance policy online. If you would like assistance purchasing a travel insurance policy, please get in touch with a BTA advisor.