Boutique Travel Advisors Supports
WHAT SHE SAID – W Scottsdale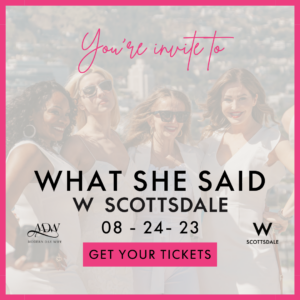 Boutique Travel Advisors supports the What She Said event to be held in Scottsdale (our local community) because we recognize the importance of empowering and amplifying women's voices. This event provides a valuable platform for women to share their stories, insights, and experiences, fostering a sense of community and inspiring personal and professional growth. By supporting What She Said, we aim to contribute to the advancement and celebration of women, We are committed to inclusivity, empowerment, and creating meaningful connections.
If you have an event that BTA could help support, please contact us at info@travelbta.com.
What to Expect | We'll See There
The What She Said event at the W in Scottsdale is set to be an inspiring and empowering gathering hosted by the Modern Day Wife. It will feature a lineup of influential speakers who will share their stories, insights, and expertise on various topics such as entrepreneurship, leadership, personal development, and more. Attendees can expect engaging panel discussions, intriguing presentations, networking opportunities, and a chance to connect with like-minded individuals. We are looking forward to being part of an event that provides women the opportunity to learn, grow, and be inspired in a supportive and inclusive environment.
Join us as we connect with other women, including your friends, new neighbors, the Modern Day Wife community visiting from near and far, and of course, your local travel agency – the founders, Angie & Janet, and some of our amazing advisors, including Bri, Jackie, and Milica who will be joining us at the What She Said event in Scottsdale.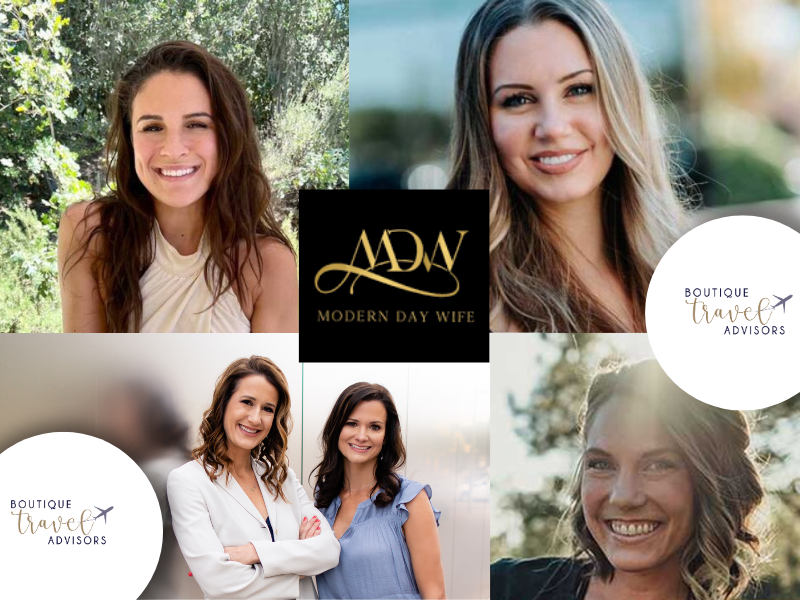 Some of our friends in the business also plan to join us, including our event collaborators, Virgin Voyages, Regional Sales Manager Meagan, and Gianna from Enchantment Resort in Scottsdale. We will have other preferred partners (who happen to live in Arizona) in attendance that you will meet, too! If you go to our social (@travelbta) and blog, you will meet even more of our friends in the travel business. We love telling our travel community about our favorite destinations, hotels, cruises, and land suppliers!
We also want to thank our friends at Costa Rican Trails who support our travelers throughout Costa Rica from romantic getaways to family adventures. In appreciation of our partnership, they also provided support so that we could be involved in What She Said! A special thank you to Miss Teen Universe Hawaii, Kelsey Kroneberger, who asked if she could bring in-kind donations to auction at our sponsorship booth for the benefit Maui Strong and the relief that is much needed now on the island. Of course, we said Yes!
Ladies, let this be a reminder that it is the people behind us, our suppliers and team members (of course, our family & friends), who allow us to better serve our clients and the communities around us.
Enjoy the What She Said event! For most of us, it's a Girl's Night Out and what would we do without our besties!?!
RAFFLE PRIZES!!!
Share Our Event Post and Like Boutique Travel Advisors, Virgin Voyages, and Enchantment Resort for a chance to win a $250 travel voucher toward a hotel stay booked through us!
We also want to take this opportunity to support other charities including Maui Strong, Fresh Start, and Pack for a Purpose.  We thank our in-kind donors for making it possible for us to raise funds for these worthy causes by raffling some great prizes – Kelsey Kroneberger & Friends, Virgin Voyages & Enchantment Resort.
A Hawaii Themed Gift Basket
While you pamper yourself from one salon to another throughout Scottsdale, the winner of this item will also receive self-care essentials and other fun gifts. This Hawaii-themed experience will bring out your inner beauty and confidence. Keep dreaming of Hawaii, knowing that BTA will plan your Hawaii itinerary (travel costs not included) to help you turn your dream into a reality. The total value of our Hawaii-themed gift basket donated by Kelsey Kroneberger & Friends is valued at over $1,500.
A Virgin Voyage Sailing
All Aboard the Scarlet Lady!
Voyage dates between Sep 2023 and Dec 2023
Blackout dates apply (currently Oct 27 and Nov 29)
Sea Terrace cabin only, max of 2 Sailors
Taxes and Fees are to be paid by the Sailor
Subject to availability, terms and conditions apply
Must be secured through Boutique Travel Advisors
This could be priceless depending on who you bring as your guest! Arguably, it's in the thousands! BTA will also help with the planning of your Virgin Voyages experience!
An Enchantment Resort Getaway to Sedona
Sedona is one of the most breathtaking places on Earth. There is no better escape up to Sedona than a stay at the Enchantment Resort.  It offers hiking, biking, other adventures, culinary experiences, spa and relaxation. This raffle item includes a one-night stay at the Enchantment Resort, a $300 spa credit, and a spa gift. Your Enchantment Resort stay will be coordinated through BTA. Restrictions and blackout dates may apply.  This raffle item is valued at over $1,000.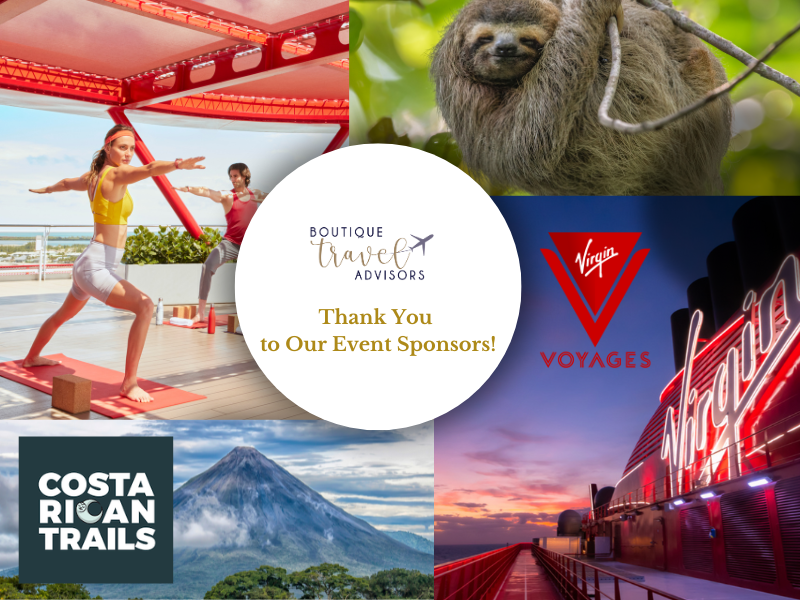 OUR PARTNER EVENT SPONSORS
Virgin Voyages
We value our preferred partner Virgin Voyages for its innovation, empowerment, and focus on the traveler's enjoyment!  When it comes to traveling by sea, Virgin Voyages redefining the cruise experience. We love Virgin Voyages for creating a work-hard, play-hard atmosphere, which changed the game of cruising. Virgin Voyage caters to the modern traveler, by offering a variety of culinary experiences in a made-to-order style and the activities range from music, variety shows, physical activities and adventure, casino, and other games. Their European itineraries will bring you culture and enrichment. We recommend you extend your vacation to include extra time before or after your cruise. BTA is here to help you create a fully customized itinerary! Their Caribbean destinations are great for reunions and even corporate incentives and team-building retreats. Does meeting with your besties count as a work retreat? We think so! It's our best friends are the ones who support us through life, work, and everything in between. Whether it's a girl trip, or you and your significant other getting together with your shared friends, Virgin Voyage is an experience beyond just a cruise! To learn more about how Virgin Voyages is setting it apart from other cruise lines, read our blog!
Costa Rican Trails
Costa Rica is a destination that has you returning for more. We inspire our clients to experience this adventurous and culturally known destination. It is a great destination for any traveler, regardless of age or whether you are planning a family, adult, or solo vacation. Our love for Costa Rica means we also have a lot of friends in this country – soon to be your friends as well! You will enjoy meeting Costa Rican Trails, our in-destination partner who helps ensure safe and comfortable experiences, along with adventure and relaxation along the way! From thrilling outdoor activities like ziplining and hiking to immersive cultural experiences, we design itineraries that cater to the interests and ages of your children. For couples traveling together, we craft romantic and bonding experiences, such as private sunset cruises, secluded beach picnics, and couples' spa treatments, allowing you to reconnect and create cherished moments in the beautiful backdrop of Costa Rica. Costa Rican Trails is an award-winning partner recognized by
Conde Nast
as a Top Travel Specialist, and they are also a Virtuoso Partner (which means added perks). We value Costa Rican Trails' commitment to keeping Costa Rica sustainable and influencing others to travel sustainably.  Contact your BTA Advisor if Costa Rica is calling your name!
Thank you, Costa Rican Trails, for supporting What She Said, and of course, the BTA team and our amazing clients.
Kelsey Kroneberger
Miss Teen USA Hawaii
A SPECIAL THANK YOU TO:
KELSEY KRONEBERGER & FRIENDS
When Kelsey learned of our event through an invitation sent to her mom (a client but also a dear friend), she quickly inquired about whether she could join and participate in a way that would benefit the relief efforts in Maui.  As Miss Teen Universe Hawaii, Kelsey, has learned how using her voice and platform can help bring people and causes together. Kelsey realized that as a travel company, it was obvious that we would be thrilled to raise funds for Maui Strong!
With the help of family, friends, and others in the community, Kelsey has already raised cash donations and in-kind donations for our Hawaii-inspired raffle prize, which will be auctioned to raise even more money at What She Said.  Kelsey would like to thank the following people for standing behind her efforts:
Pat, Carla & Carter Kroneberger – Ageless Anatomy – Blue Buddha Collective – Boutique Travel Advisors – Club Pilates Paradise Valley – Health Cellution – I Lash of Scottsdale – Karen Kay – Make-up By Naomi – Star Limo – Taylor Made Aesthetics – The Taylored Beauty – The Colangelo Family – The Kidess Family – The Nava Family – The Nygaard Family – Westy's Was LLC – Kara Dawson of Pucci Salon – Scarlett Nordstrom of Pucci Salon
When we come together as women, we serve as role models to our children and young adults like Kelsey, who are passionate about giving back and being her authentic beautiful self!  Thank you, Kelsey!
"Feminism isn't about making women stronger. Women are already strong. it's about changing the way the world perceives that strength."

—Indra Nooyi
THANK YOU FOR SUPPORTING WHAT SHE SAID, BOUTIQUE TRAVEL ADVISORS & OUR COMMUNITY!
Love,
Angie, Janet & the BTA Team